The best of all worlds in complete POS Systems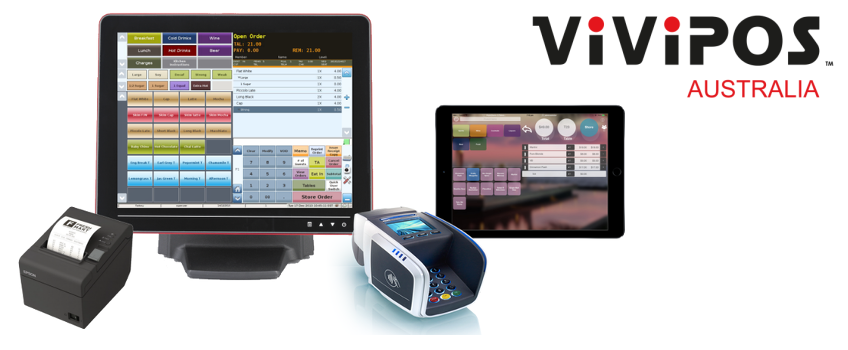 In 29+ years serving retail businesses, we've seen quite a few systems come and go. We've seen what works, what doesn't, and where the marketing and technology is headed. This is why we didn't jump onto the 'pure cloud' software bandwagon a few years ago - not for POS at least anyway. In Point of Sale, especially in a busy Restaurant, Bar or Cafe, you need maximum speed, reliability and uptime. More often than not, every few seconds counts.

This is why, when we first discovered the ViViPOS All-In-One system, we were suitably impressed. We'd finally found something we could confidently offer you with 100% belief in the product and the people behind it.

Here's just a handful of the powerful features it offers to make running your business easier:
• Standard Sales Operations
• Customer Loyalty program
• Promotional & Combo Sales
• Item & Sales Discounts
• Stock Control
• Barcode scanning
• Staff Shift Management
• Refunds / Returns
• Receipt after Sale
• Multilingual Support

To date, ViViPOS is the quiet workhorse behind many successful hospitality and retail operations.
Businesses across Australia are using it to run Fish n Chip shops, Fast Food take-aways, Cafes, Bakeries, Deli's and Butcher shops, to Pubs & Hotels, Wine Bars and Clubs, Retaurants, Retail and Grocery store businesses.

If you take your business seriously, we may well have the ideal POS system for you, without the Super-Premium price tag many have today. (Finance options usually exist too - please ask if this is something you'd find helpful).

Keen for a Demo or just want to know more? Drop us a line on 1300 884 976 or
Click Here to get in touch.